News
From PoLSWiki
March 2015
Congratulations to Prof. JC Gumbart on receiving an NSF CAREER award:
CAREER: Research and Education on Protein Folding as an Energy Source at the Bacterial Outer Membrane
Congratulations to Henry Astley on his recent publication in PNAS!
Congratulations go out to Daniel Kovari from the Curtis group for successfully defending his Dissertation!
Congratulations to Alexis Noel for getting an NSF Graduate Research Fellowship (GRFP) for the Physics of Living Systems!
July 2014
iPoLS Conference- Munich
The Georgia Tech Physics of Living Systems group sent an astounding 20 people to the iPoLS conference in Munich this year. Presentations were made by: Flavio Fenton Curtis Balusek Bradford Taylor Patrick Chang Henry Astley & Patricia Yang
January 2014
Presidential Early Career Award
Professor Dan Goldman was awarded an NSF Presidential Early Career Award in Science in Engineering. Dr. Goldman attended the PECASE ceremony at the White House
12-05-2013
PoLS Pot-Luck
To celebrate the end of a great semester of student and postdoc talks, GT-PoLS held a "Physics of Living Systems" themed pot-luck during the scheduled Lunch & Learn.
Dishes were representative of the following categories:
Dishes included items like Sarah Sharpe's Rice-Crispy Pops (granular), Bo Broadwater's Guinness Cupcakes (cultures), and James Water's Baker's Map Apple Tart (which actually is a mathematical strange attractor).
04-08-13
Visiting researcher at CrabLab: Christopher Topp, Postdoctoral Associate at the Department of Biology, Duke University. Dates: April 29-th-30th 2013. Christopher is interested in studying the plants roots networks in soil.
Visiting researcher: Jessica Kurth, Graduate Student at the Department of Biology, UNC Chapel Hill. Dates: April 22-nd- 24-th 2013. Jessica plans to study burrowing behavior of earthworms.
3-21-13
PoLS students from Georgia Tech, The University of Maryland, and The University of Maryland gathered for lunch at March Meeting.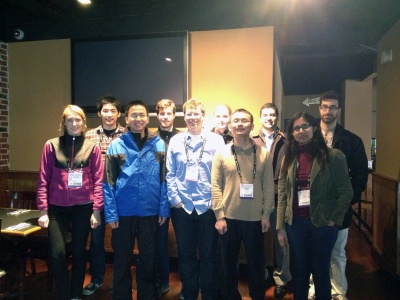 02-15-13
Sarah Sharpe (Goldman Lab) placed 2nd for Best Student Presentation in the Division of Comparative Biology at the Society for Integrative and Comparative Biology (SICB) Conference. See the announcement on their website.
02-01-13
The University of Illinois, Urbana-Champaign will be hosting the 2013 Physics of Living Systems Summer School, July 15th-20th. See their website: http://www.cplc.illinois.edu/summerschool2013/ for more details.
01-31-13
The Lake Como School of Advanced Studies in Complex Systems (Villa del Grumello, Como, Italy) will be hosting a workshop covering "Quantitative Laws of Genome Evolution" from June 27- July 5, 2013. Registration opens in February 2013. See flier for details.
01-22-13
The PoLS web site, which includes the BLOG is now ready for use, but it requires you to register first. If you have not already registered, visit: http://pols.rice.edu
11-16-12
There will be a talk given by Prof. Robert Dudley entitled From Ants to Hummingbirds: The Evolution of Flight. Information about the talk can be found here. Lunch for PoLS student members will be provided after the talk.
11-15-12
For those students interested, the Siements Competition in Math, Science & Technology will be held on the Georgia Tech campus this weekend. As described on the competition website "America's next generation of young innovators presents their awe-inspiring research projects to expert university judges." More information can be found here.
10/7/2012
The first of nine Lunch & Learn student led presentation and discussion sections will begin this Thursday, 10/11/2012. Lunch & Learn sessions will be held on Thursdays from 12-1:30 in Howey. A full schedule and sign up sheet for the lunch and learns can be found on the Lunch & Learn page.
9/21/2012
Georgia Tech joins other North American Nodes in the Physics of Living Systems student research network. For more information see the Georgia Tech press release here.